In May 2011, microfluidic ChipShop moved into its new corporate headquarters, which we extended with a second building in 2015. On a space of approximately 4,700 sqm (approx. 52,000 sqft) the specifically built facility, located in one of Jena's new industry parks conveniently close to the autobahn, contains all the required infrastructures for your one-stop-shopping for microfluidic development and production. Our buildings are organized into four main areas: The first wing contains the precision mechanic workshops. In this area, we design and generate molding tools, mold inserts, and precision machined polymer or metal components. Design data generated by our CAD/CAM team is transformed into parts and tools by our precision and ultra-precision milling and turning machines. These machines, as well as equipment for electro-discharge machining (EDM), are positioned in a climate-controlled environment with a temperature control of ± 0.5°C, partly with especially vibration-isolated foundations.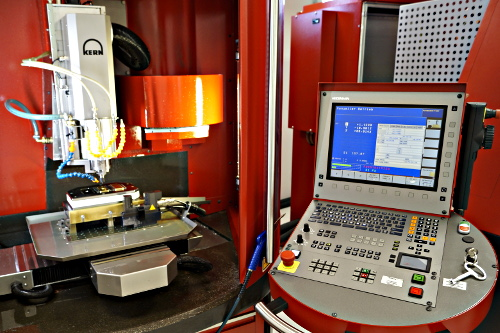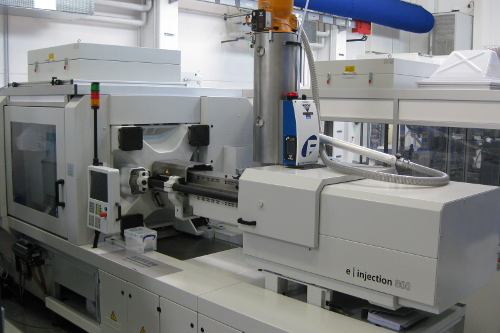 For the manufacturing of polymer parts via injection molding and hot embossing, we provide a temperature controlled clean space of approximately 400 sqm (4,300 sqft). The injection molding machines are housed in clean-room hoods in order to reduce the particle load. From this area, we transport the parts into a class 7 cleanroom area of 500 sqm (5,400 sqft) for back-end processing. Here, we conduct processes like surface functionalization, integration of wet and dry reagents, spotting, assembly, and packaging. Our optical measurement stations, including a confocal white-light interferometer and high-precision stereo microscopes, are complemented by functional fluidics testing stations for an industrial quality control of our manufactured goods.
The third division of our headquarters contains our biological and biochemical laboratories. In these labs, our team of biologists and chemists develops protocols for on-chip assays, reagent storage solutions, or surface modifications for our customers. For this purpose, we provide equipment, like spotting tools, PCR machines, lyophilizers, or electrophoresis stations. These labs also house our microfluidics instrumentation labs, where we not only develope our own instruments, the ChipGenie series, but also carry out validation experiments for the microfluidic characterization of components and systems.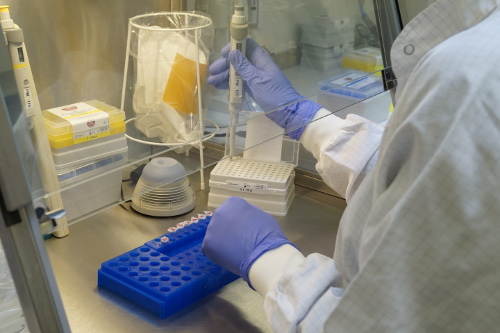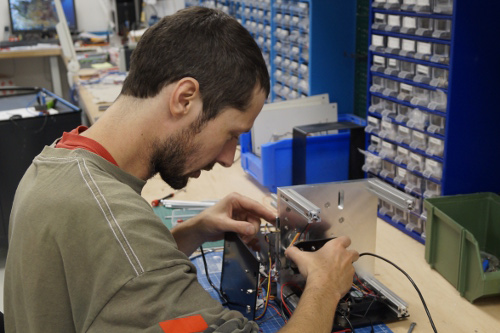 The fourth area houses the system development and manufacturing department. In well-equipped laboratories, our mechanical and electrical engineers develop customer-specific instrumentation for all fields of microfluidics-enabled products which, again, can is validated in our application laboratories. This has been a very rapidly growing business area for the company and allows microfluidic ChipShop to offer all aspects of a microfluidic system development from the very first design concepts to an overall manufacturing of instruments and consumables.